Users of this very appealing site listen to and read a variety of stories, poems, while viewing accompanying drawings. Teachers will like the Read a Story options with simple Dolch words. Children can submit their own poems and may see themselves published online… The animated alphabet is certain to appeal to pre-K and kindergarten teachers and students. Make it a center that students can explore over and over!
-TeachersFirst.com
(educator-reviewed resources)
An entertaining and educational sampling of stories, crafts, games, and poetry for young children. Attractive and easy to navigate, this site also includes children's book reviews and other "cool links" for kids.
— The American Library Association, Great Sites for Kids.
Listen to cool stories online, build a beast in the game section, read poems, and have lots of fun at this amazing website. Games, stories, poems, and music - Inkless Tales has it all. Check it out! Awarded an American Library Association "Great Web Sites" Recommendation.
— The Internet Public Library
Inkless Tales is listed as one of the Encyclopedia Britannica's less-than-600 "World's Best Web Sites," available exclusively to subscribers.
— www.britannica.com
Stories, poems, games, tongue twisters, and lots, lots more, all by Elizabeth Bushey. Drop by and visit when you have some time, because you are sure to want to stay and play.
— Poet Kenn Nesbitt, poetry4kids.com
DODGE CITY DAILY GLOBE, DODGE CITY, KS:
TAUNTON DAILY GAZETTE, MA
LA JUNTA, CO TRIBUNE-DEMOCRAT
QUINCY, MA - PATRIOT-LEDGER
Web Site of the Day: Inkless Tales Inklesstales.com: This site for kids contains stories, poems, projects and games. Children will be having so much fun, they won't realize they're growing creatively and learning about everything from the alphabet to math to science. There's also a section for grownups. Stories, poetry, games, finger puppets, coloring, crafts, and songs.

This web site has it all.
— Playgroundprime.com
An interactive website where reading, writing and drawing intersects with math and music. Inkless Tales is about showing kids if you try, you probably can. This "Imagination Engine" is all about sparking your creativity through playing, learning, reading and writing!
— Piccirillo Sciencetelling, New Jersey
---
---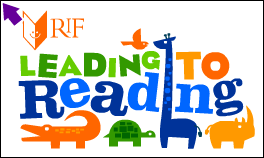 InklessTales.com is proud to support Reading Is Fundamental (RIF) by providing content for its worthy initiative, Leading to Reading.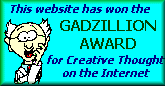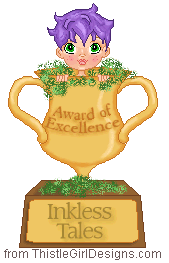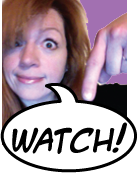 (so important we even made a VERY entertaining and VERY NOT BORING VIDEO,)
We EVEN explain the CHILDREN'S ONLINE PRIVACY PROTECTION ACT - COPPA, for short - so KIDS can FINALLY UNDERSTAND it. (That's HERE, if you want to read it. And you should - if you're a kid. Even if you're NOT a kid, you should.)
Just keep adding more... I like everything! I just love the real pleasure in inventing and creating and the fun of your website...I am teaching Engish as a second language here in Milano, Italy and your web site is very helpful!
— J.B.
Cool video stories for younger students.
— Retta Brown Academy, South Arkansas
Featured site of the month, Itty Bitty Bookworm, http://www.ittybittybookworm.com/
Coloring fun and tongue twisters abound at Inkless Tales, along with poems, games, and more to play and learn. Read stories, write poems, find books that a child can read alone or be read to, and for a special treat, view the "inkless alphabet" to hear and learn the secret of decoding letters (and learn to read too!). Did you know that lively lions love lavender lemons?
— Amigos Library Services, Dallas TX
An enjoyable and educational smorgasbord of stories, poetry, and games for kids of all ages. Don't miss the "Animated Alphabet!"
— Oak Park Public Library, IllinoisOur